Web Design Portfolio
At CSi Networks, we're very proud of our work – and we want our customers to feel the same about their websites. Please take a look at just some of our past website projects.

Unique Travel Planners
Expo Trade Shows
Riverview Rams Football
Arne Carlson Insurance
Van Wezel Foundation
Siesta Home & Condo Rentals
844 Med Plan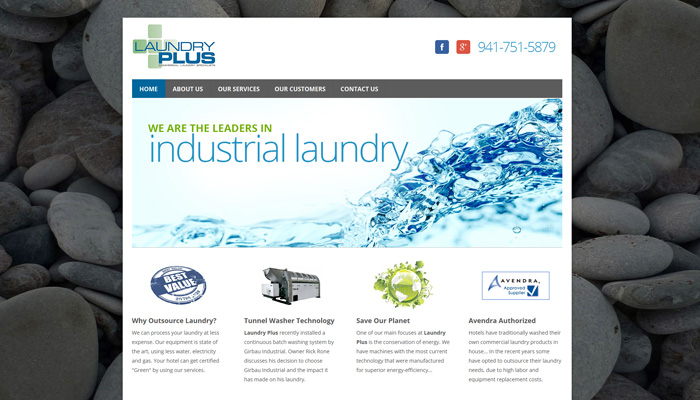 Laundry Plus
Unique Travel Planners

Unique Travel Planners wanted to highlight some of their best services and make it as easy as possible for their customers to find exactly what they were looking for.

We made sure to organize the menu buttons and general layout of the website to promote that idea, along with adding a blog and the "Book A Trip" function for better usability.

Expo Trade Shows

When Expo Trade Shows contacted us, they were in a need of a website that could display their events with ease and organization.

They wanted the website to be easy to use for the visitor, displaying each upcoming show and the benefits of attending those shows.

We added a special event tool to the website, making it easier to update new trade shows for their staff. The event tool also features an interactive calendar and Google map displaying the venue's location.

Riverview Rams Football

The custom site design is one of the premiere features of the website. By using a backdrop of a football field and the bold teams colors of reds and maroons, the page really stands out. Easy to use and intuitive navigation drives the site, leading its visitors to the information they desire quickly and easily.

Arne Carlson Insurance

The Arne Carlson Insurance Agency, Inc.

In serving Sarasota and Manatee county for over 60 years, the Arne Carlson Agency has built a tradition of professionalism and integrity. Their firm covers work with large and small businesses, as well as individuals. Contributions to the community are made through ongoing involvement through their various work with charities and civic organizations.  They provide Personal, Commercial, and Contractors Insurance tailored to meet the individual coverage needs of their clients.  The Arne Carlson Insurance Agency prides itself on finding workable answers to any insurance challenge.

Van Wezel Foundation

Established in 1987, the Van Wezel Foundation is a charitable non-profit 501(c)(3) organization that has directed millions of dollars in support of the local landmark the Van Wezel, the regions premier Performing Arts Hall. This support has contributed to the Hall's capital improvements, programs and ongoing educational efforts. The mission of the Van Wezel Foundation is to enrich the lives of members of the Gulf Coast Community. Their focus has an emphasis on children, through the performing arts, while supporting the needs of the Van Wezel.

Siesta Home & Condo Rentals

Siesta Home and Condo Rentals, Inc. has over 30 years of experience in the Real Estate industry with the past 7 years focusing on Siesta Key area rentals. They offer local, as well as national and international customers, a little piece of paradise with their very own affordable, seaside rental propertiers.  Roomy and stylish, these properties feature many amenities all while being steps from the gorgeous Siesta Key beaches. Site visitors can access property pictures, details, and prices - as well as information about local attractions including a free interactive Visitors Guide.

844 Med Plan

844MedPlan covers over 15 million customers nationwide in providing affordable Health insurance in the current marketplace. Through its licensed life and health insurance companies, USHEALTH Group, America's Choice for Healthcare, offers quality coverage to policy holders including Comprehensive Healthcare Coverage, Fixed Indemnity Health Insurance, Critical Illness, Life, Dental Coverage, Accident, Short-Term Accident Disability Income Insurance and much more.

Laundry Plus

Laundry Plus was established in August 1989, becoming a leading commercial laundry provider for the Gulf Coast of Florida. Laundry Plus offers customers a source for outsourcing their laundry needs, primarily due to high labor and equipment replacement costs. Customers include some of the most respected and well known hotels in the area. Besides concentrating on ideologies of superior quality, service, cost efficacy, and individual customer needs; Laundry Plus conserves energy, water, and natural gas with the use of its state-of-the-art equipment.